Our new area
code is 276 as
of Sept. 1st


****************
Sign Dr. Van Zee's
online Petition to
recall Oxycontin here
****************


Local News
Headlines

FYI Section:
Recent Marriages
Recent Divorces

PHOTO GALLERY
Page 1 Page 2


You might be
from Lee County IF...


**Important warning
for pet lovers!**

---


Sign up for a free
"penningtongap"
address and/or
Login in here!


_______________________




Sign the GuestBook

View the GuestBook

_______________________

GENERAL DISCUSSION
MESSAGE BOARD


_______________________

REUNION NOTICES
& PERSONAL/FAMILY
MESSAGE BOARD



Post A Message

View Messages

_______________________

HOBBIES & INTERESTS
DISCUSSION BOARDS

Recipe Swap

Rantin' & Ravin'

Household Corner

Sports Talk

Share the Fun

_______________________



View Links List
Our Link Banners




_______________________



Click on the Bobcat
to visit the PHS tribute page.
Has a few photos and football stats.
_______________________



Lee County Genealogy
_______________________

OTHER SITES
OF INTEREST

Town of Pennington Gap Website
Town of Jonesville Website
Lee County Website
Lee County Rescue Squad
Lee County Connection
Lee Co. Relocation Info
Lee High Football Website
Appalachian Heritage
State of Virginia Website
Visit Virginia Website
Map of SW Virginia
Big Stone Gap, Va
Norton, Va
My Wise County.com
Scott County, Va
Kingsport, Tn
Bays Mountain Park
Daniel Boone Trail
Shop Fort Henry Mall online




Red Hill Cemetery

_______________________











Like this site?




Wanna stay informed of major site updates?
This site is not managed by,
nor associated with, the official
Town of Pennington Gap website,
or the town officials or employees.

The accuracy or reliability of the
information on this site is not
guaranteed or warranted in any way.
Click here to view our Disclaimer

FAQ's

Our Site Awards

Site Debut: April 21, 2000




Email about this site
can be sent to:
pgapgal@hotmail.com
or
webmaster@
penningtongap.every1.net



This page has had


Thanks for visiting!
Please come back often!

Thanks to Tripod for the
free webspace for this site.


~Welcome~
To The "Other"
Pennington Gap Site!


Welcome to a site all about Pennington Gap Virginia and the surrounding areas! We have an instant messenger, a chat room, and a WebRing exclusively for sites containing anything about Lee County Virginia or the towns within it, or any sites belonging to Lee Countians, so if you have one, please join us! There is also forums for you to post personal messages, reunion info, info about your family tree, or to discuss sports, recipes, or just about anything. Check out the local news headlines section for major happenings in the county, and the FYI section for recent local marriages and divorces. Also, you can get your own FREE email address as yourname@penningtongap.every1.net, AND you can send and pick up free online greeting cards right here! We've also just added a Classifieds section that you can submit your ad to for free!

Please come on in and look around, we're glad you stopped by! We hope you enjoy your visit and will come back often. Please sign the guestbook so we know you were here. Have a wonderful day!




Local Motels

Convenient Inn
131 Industrial Drive
Pennington Gap, Va 24277
(540) 546-5350

Jonesville Motor Lodge
Highway 58 West
Jonesville, Va 24277
(540) 346-3210

_______________________

Our Radio Station:

WSWV (View Site)
PO Box 630
Pennington Gap, Va 24277
(540) 546-2520

Our Newspapers:

Powell Valley News
125 East Morgan Ave.
Pennington Gap, Va 24277
(540) 546-1210

Kingsport Times News (View Site)
PO Box 479
Kingsport, Tn 37662
(423) 392-1390

_______________________

Mayors Office
131 Constitution Road
Pennington Gap, VA 24277
(540)546-1171

Lee County Courthouse
PO Box 326
Jonesville,Va 24263
(540) 346-7763

Lee Co. Sheriffs Dept.
PO Box 177
Jonesville, Va 24262
(540) 346-1131

Post Office
West Morgan Ave.
Pennington Gap, Va 24277
(540) 546-2623



There IS now an alternative to the Dog Pound in Lee County, but this rescue group needs help, such as volunteers, "puppy petters", foster homes, and of course financial support, or just a bag of dog food. Every little bit helps. They are affiliated with S.O.S. in Richmond, so they are a non-profit group and depend solely on donations, which are tax-deductable. Please take the time to visit this site and see some of these precious animals that desperately need a loving home. They are God's creatures too and they deserve a happy life. Please take a look. Thank you.


A new beginning: "New York actress claims stray dog is a real wags to riches story"

"The greatness of a nation can be judged by the way its animals are treated." - Ghandi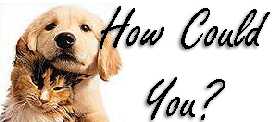 _______________________

Worried about your privacy while online?
Check out this site!



_______________________






Pennington H.S., Jonesville H.S., & Dryden H.S., are all listed with Classmates.com!


Please take a minute to visit this worthwhile site

THE DOVE OF PEACE
FLIES FROM SITE TO SITE,
THROUGH AS MANY COUNTRIES
AS POSSIBLE. IT DOES NOT BELONG
TO ANY BELIEF SYSTEM.
PLEASE HELP IT MAKE A LINE AROUND
THE GLOBE WITH A PRAYER FOR
PEACE, BY TAKING IT WITH YOU
TO YOUR SITE OR BY GIVING IT
TO SOMEONE FOR THEIR SITE...
PASS IT ON.